Scientists have struck gold in an unlikely place: Swiss sewage and waste water treatment plants.
An estimated 95 pounds of gold is flushed through Swiss sewage systems each year, according to a study by the aquatic science institute Eawag.
The lost gold is worth nearly $2 million at current prices.
The researchers believe the tiny flecks of gold flow into the waste water system from the country's famed watchmaking industry and gold refineries.
The study, commissioned by the Swiss Federal Office for the Environment, involved surveys of 64 waste water treatment plants across the country.
Some areas had higher concentrations of gold than others.
In one part of southern Switzerland that is home to several gold refineries, elevated levels of metal deposits might even be worth collecting.
"Concentrations of gold in sewage sludge are sufficiently high for recovery to be potentially worthwhile," the researchers wrote.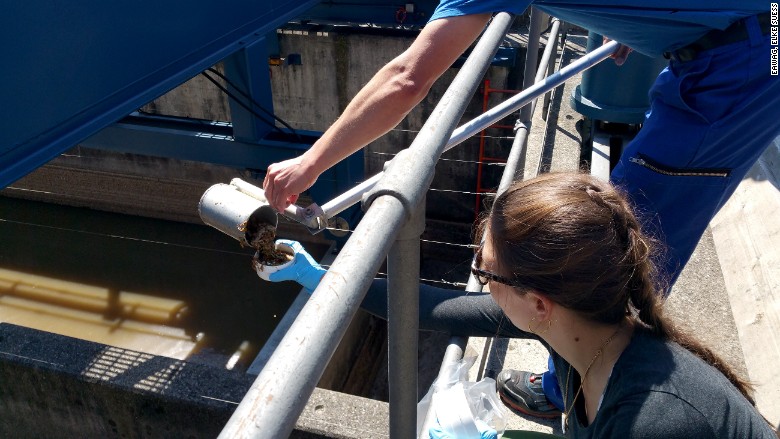 The scientists found other unexpected elements in the water: large amounts of silver and even rare earth minerals often used in the manufacture of electronic devices.
The researchers estimated that over 6,500 pounds of silver ($1.8 million at current prices) flows into Swiss waste water each year.
Related: Germany repatriates $31 billion in gold from Paris and New York
Gold and silver aren't the only valuable items found in Swiss waste water this year.
In September, Swiss investigators launched a probe into why two Spanish women flushed roughly €100,000 ($120,000) down toilets in Geneva.
The Geneva Prosecutors' Office said they found cut-up €500 bills had been flushed down toilets at a UBS bank branch and three nearby restaurants.
The investigators said they were concerned the women were trying to get rid of illegal cash.
CNNMoney (London) First published October 11, 2017: 8:01 AM ET