Women are buying handguns in record numbers — especially weapons that are small enough to conceal.
But they are frustrated by the lack of firearm accessories catering to them. So some are starting companies of their own to tailor products to women.
"I thought to myself, 'Where's all the women's stuff?'" said Lorelei Fay of Boise, Idaho.
Fay couldn't find a suitable holster when she got her own concealed carry license. Her mother had taught her to sew, so she made her own: an elastic belly band with a holster for her Sig Sauer semiautomatic handgun. It also has pockets to hold two backup magazines.
When her friends laid eyes on it, they wanted one too. So she stitched up some of the corset-style holsters and starting selling them in 2014.
Fay called her company Miss Concealed.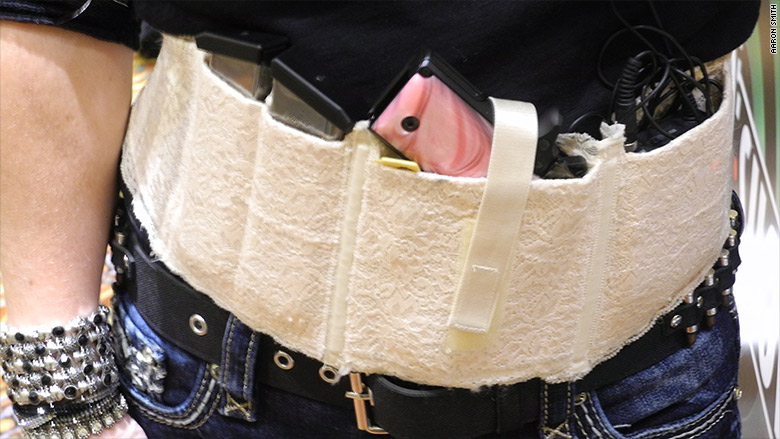 "When I started selling my stuff on eBay (EBAY), it started selling like hotcakes," said Fay, who peddles a lacy line of holstered corsets called Hidden Heat for $30 to $50. "I couldn't keep enough inventory. As soon as I make them, they're right out the door."
Fay said she hired seven sewers as revenue swelled to $200,000 in 2015. She made more than half of that in the last three months of the year.
She said orders spiked after a mass shooting in San Bernardino killed 14 people in December.
"Women want to protect themselves," said Fay. "There's so much craziness going on right now. Men and women don't want to be a victim."
Last month, when she was exhibiting her products in Las Vegas at the National Shooting Sports Foundation's SHOT Show, she had to temporarily stop taking new orders because her sewers couldn't keep up with demand.
Fay wasn't the only woman entrepreneur at the SHOT Show catering to the growing market.
Related: Gunmakers streamline pistols for women who carry
Self-protection is serious business for Leslie Deets, founder of a gun-centric handbag startup called Concealed Carrie. She and her husband also co-own Sharp Shooters USA gun range in Roswell, Georgia.
Being in the gun business "hits close to home," said Deets, as she described a harrowing assault while a college freshman. "He kidnapped me, stabbed me and held me at gunpoint."
Deets sells handbags containing hidden holsters for small handguns, like her pink Walther PPK .380 semiautomatic, which she can access in a "crossbody" draw from her purse. She designs her purses, satchels, clutches and compacts to be fashionable as well as utilitarian, providing quick access to concealed guns, TASERs and pepper spray.
Related: Guns, guns guns: 2015 was a record year for FBI background checks
"We want to enhance your wardrobe, not distract from it," she said. "We don't want everybody to know our business."
Prices top out at $229, though she offers free replacements to women who shoot through the bags to protect themselves from assault.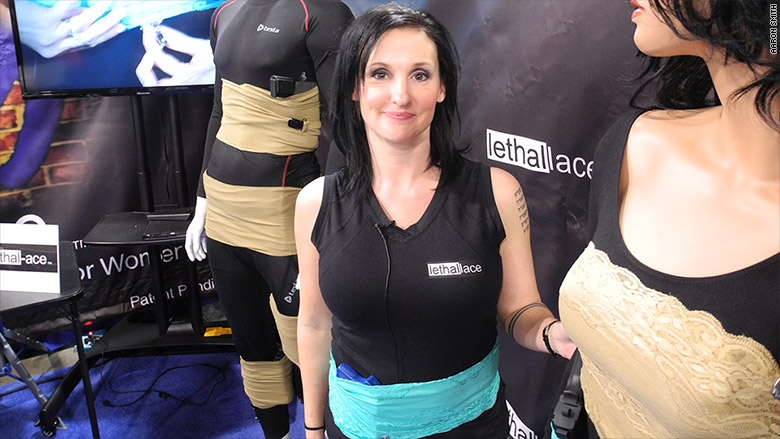 Tessa Renaud, an Ob-Gyn from Baton Rouge, Louisiana, has also made a business out of self-protection. She got a concealed carry permit when she used to work in the ER because her shift ended in the wee hours and she wanted to be armed when she walked alone to her car.
But she didn't know how was she going to holster her bulky Smith & Wesson (SWHC) 1911 semiautomatic pistol and her Ruger (RGR)SP101 revolver.
"I looked for weeks and couldn't find the right thing," she said. "I got so frustrated I decided to come up with something on my own."
She designed a line of lace flexible wraps that are fastened to the body with metal clips, like Ace bandages. Her booth at the SHOT Show featured a mannequin covered in lace wraps like a mummy, with replica guns strapped to its torso, arms and legs.
Related: How the Iron Pipeline funnels guns into cities with tough gun laws
Renaud started Lethal Lace about two years ago with her husband, Mike, an ex-sheriff and stay-at-home dad for their six kids. They said they sold 1,000 of the products last year, with revenues totaling $25,000 December alone, which was their best month. The wrap holsters cost $58.
At the SHOT Show they launched a new wrap holster for men, sans lace. But the Renauds said they've already sold a lot of lace wraps to men.
"I wear the lace one," said Mike. "It's concealed. I'm man enough to wear it."
— Abigail Brooks contributed to this report.
CNNMoney (Las Vegas) First published February 2, 2016: 10:46 AM ET